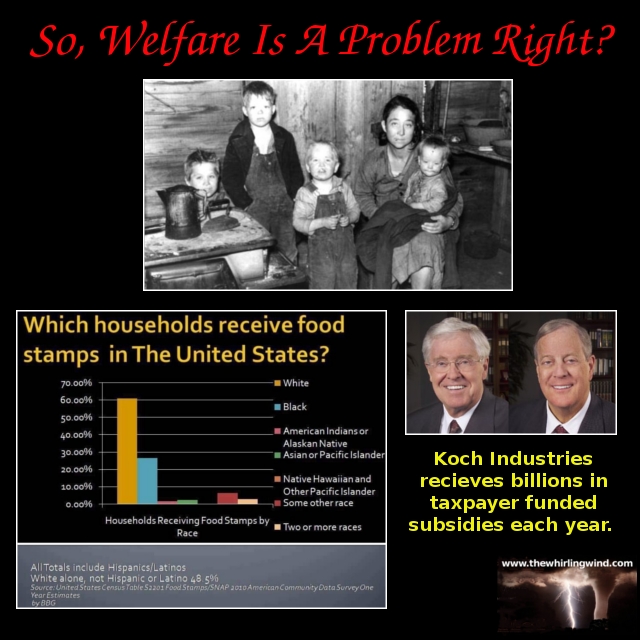 by Benjamin T. Moore, Jr.
THE TRUTH ABOUT WELFARE
I have been watching this welfare debate – now called "entitlements" – for a number of years now. Most often this subject comes up around election time. Of course now that the next election seasons begins almost as soon as the current one ends, there seems to be a steady drumbeat about "welfare" and "entitlements."
In almost every piece I've seen, they always feature Black or Brown faces when talking about welfare. The figures – which I am now convinced they pull right out of the air – are truly staggering. This puzzled me for two reasons. The first is, Black people only make up 13% of our population. Thus if we were receiving all these government handouts, poverty would have been eliminated in the Black community years ago.
The second reason has to do with my own personal life's experience. My extended family is fairly large. We are spread out all across these United States. I even have relatives living in Alaska. The fact of the matter is, with all the family I know of, I cannot think of one of them that has ever been on welfare! Believe me there have been a few of them who would have qualified at one point or another in their lives.
If being on welfare was the pandemic within the Black community, some would have you believe, how is it that my extended family has existed for all these years unscathed by this ethnic predilection to government handouts? No, I am not saying that there are no Black people on welfare, I'm merely pointing out how odd it is that I don't personally know any.
On the first day of my Statistics course at the University of Washington, my professor addressed the class and made the following statement which has stayed with me all these years. "Figures lie. Liars figure. Sometimes it is difficult to determine which is doing what."
What is "welfare?" When you mention the word "welfare" we have been conditioned – inaccurately – to see an unwed Black or minority female with 4 or 5 kids, getting a government check and living in public housing. We have further been indoctrinated to feel that the money she is receiving is coming directly out of our pockets.
How many times when the subject of "welfare" has come up have you pictured in your mind a poor white family living in a trailer park? I suspect, very few ever think of a welfare recipient as being white. Ironically, a welfare recipient is much more likely to be white than any other race.
How many times when the subject of welfare comes up, do you think of military families where the husband is overseas fighting and the wife is at home trying to feed their children and maintain a household in his absence? How many times do you think of large corporations who are receiving billions of taxpayer dollars in the way of Federal subsidies?
It is almost like the ending of "The Wizard of Oz." "Pay no attention to the man behind the curtain!" Before we tackle the issue of providing for needy families, perhaps we should ask why Oil Companies receive billions of dollars in federal subsidies? Do you think they need it? Maybe we should ask why Koch Industries – the 2nd largest corporation in the United States – is given billions of dollars in taxpayer funded subsidies? While you're at it, ask why a person can work full time at Walmart and still qualify for federal assistance. Their business plan – successful – involves you and I, the taxpayers, making up the difference in what they ought to be paying their employees. Of course, if you're not serious about reforming "entitlements" and basically are content to use racial stereotypes to explain away our economic issues, then I suppose the truth really doesn't matter to you anyway, right?