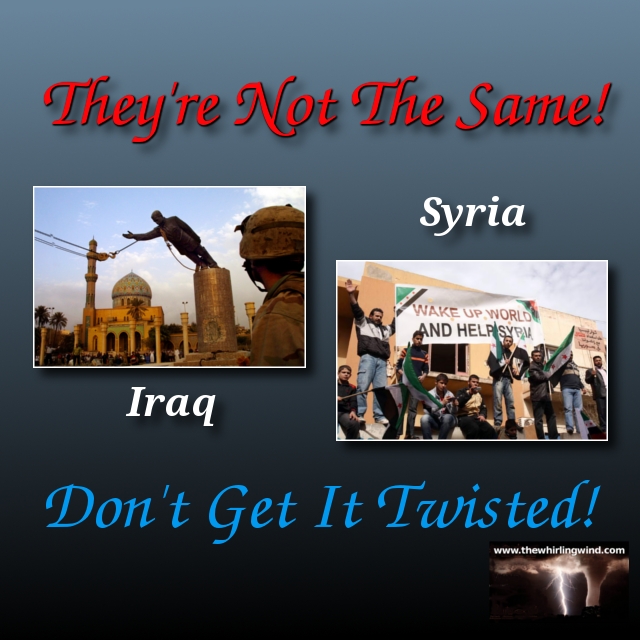 by Benjamin T. Moore, Jr.
Syria Is Not Iraq
Have you ever noticed how our Presidents seem to age right before our very eyes? These are the problems and issues that cause this apparent rapid ageing. As President Obama once pointed out, all the easy decisions are handled before they ever reach his desk. The problems that reach the "Oval Office" are the ones only he can make a decision about. What to do about Syria's use of chemical weapons on its own people is just such a decision. Contrary to what some of the pundits would have you believe, Syria is not Iraq.
This Is Not His Daddy's War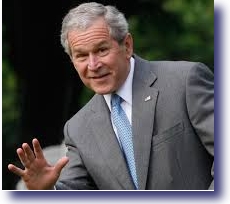 There is no doubt the shenanigans of "Bush 43" left a very sour taste in the mouths of the  American people when it comes to military operations in the "middle east." The analytical amongst us figured out early on, the primary reasons for going into Iraq following the terrorist attacks of September 11, 2001, had more to do with the oil cartels wanting to get their grimy mitts on the 2nd largest oil reserves in the world and our military industrial complex looking to loot this country. Add to these facts, G.W. would get to finish the job his daddy only started, and it was a done deal.
The United States is still paying for the criminal incompetence of G.W. Bush. In the words of Obi Wan Kenobi, "who's the bigger fool? The fool or the fool who follows him?" I think we've answered that question and at an extremely high cost.
Chemical Weapons Actually Used
Unlike the cobbled together justification for going into Iraq, Syria has actually used chemical weapons on its citizens. We've seen the videos and the dead bodies have been examined. Did Saddam use chemical weapons on the Kurds? Yes he did. We sold him the chemical weapons he used. However, this occurred back in 1988. At the time of this writing, Syria used chemical weapons against its citizens just 10 days ago. Syria is not Iraq.
Mission Is Not Regime Change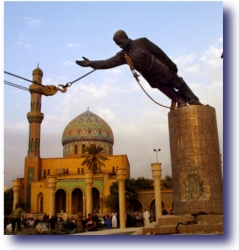 President Obama is not interested in changing the Syrian regime. Not only does the United States have no Constitutional authority to go around changing the regimes of sovereign nations, who is to say that the regime replacing the current one would be any better? Although many nations in our global community are expressing trepidation about taking action, it has been long established policy – global policy – that the nations of the world will not tolerate the use of weapons of mass destruction. Chemical weapons fall under this prohibition. Had Assad detonated a "tactical nuke" I suspect there would be no hesitation in the global community for taking action. The reality is, using chemical weapons is philosophically no different.
Syria Is Not A Major Oil Producer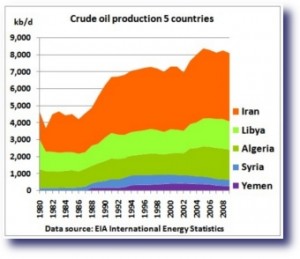 In point of fact, Syria has not been able to export any oil since the 2011 sanctions. If Syria were a major oil producer, you'd best believe the Republican lap dogs would be getting calls from their corporate masters and they'd be itching to go into Syria. Syria is not Iraq.
Destabilizing Civil War Already In Progress
When we went into Iraq under George Bush 43, Iraq was not at war and was relatively stable. You may not have liked Saddam's administration, but his people had food, they had electricity and there was law and order in the streets. We went in and destabilized Iraq, seized their oil production and destroyed their infrastructure. As Colin Powell advised Bush 43, "it's the pottery barn rules; you break it you bought it." We've been paying to keep Iraq together ever since.
Syria is already in the middle of a civil war that is destabilizing the region. If tomorrow you awoke to tanks rolling down your street and bombs falling, what would you do? If possible you'd take your family and get the hell out of Dodge. Those in Syria who can are doing that very thing. Where are they going? They're going across their borders where possible and that means the surrounding nations are inundated with refugees. Over time, this will serve to destabilize those nations. Thus, the longer this conflict continues, the more dangerous it becomes for that region. Syria is not Iraq.
What To Do?
What should we do in Syria? Frankly, I don't know. I'm not the President and I'm damn glad I don't have to make this decision. I'm definitely not an advocate for "boots on the ground." We can't simply blow up his chemical weapons stock piles because that would release them into the environment.
I also am not naive enough to believe we shouldn't do anything. We've seen what happens when despots get away with even the least bit of genocide. It always grows and it sets a precedent for all the tin horn dictators watching to see what the consequences might be.
I might recommend what I call the "Moore Doctrine" of modern warfare. Under my doctrine, when dealing with a nation that refuses to see reason, you take out one third of their military assets. You then give them the opportunity to negotiate. If they remain recalcitrant, you take out another third and so on. Assad wants to maintain power. If he loses his military, he's done for. Reduce his military by one third, you haven't removed him from power, thus further destabilizing the region, but you may have taught him a valuable lesson and a lesson, more importantly, that those watching will appreciate.