by Benjamin T. Moore, Jr.
If you've been paying attention over… THE LAST DECADE, we've been bombarded with one thing to fear after the other. Remember when all the computers were going to crash and send us back to the stone age? They called it "Y2K." We bought generators, stored food, prepared for the Apocalypse. Well, at least I did. Yeah, they got me. A lot of merchants got paid though.
9/11 The Fear Of Terrorism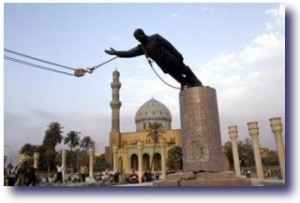 Terrorist attacks of September 11, 2001. That was certainly an international tragedy! We lost close to 4,000 United States Citizens that day. We saw the "Twin Towers" fall and the Pentagon hit. They used our own air planes against us. Yes, we were angry, but our fear fanned the flame of that anger. Because of our fear and anger, we invaded two countries, one of which had NOTHING to do with the attacks. We've lost more lives fighting over there than we lost on "911." If you count the maimed and wounded, our casualties are easily over 30,000. Yet, in that exact same year, we lost 37,862 people in fatal car accidents. Not one move was made to outlaw automobiles or restrict driving. Why?
Fear is what drives our economy. Fear is why our gasoline prices fluctuate wildly from day to day. Start a rumor about an oil spill or a slow down in production anywhere in the world, and like lemmings going over a cliff, oil speculators will drive the price of gas through the roof. Fear is both expensive and profitable.
Economic Fear
Fear brought on "The Great Depression." People were afraid that their bank was going to run out of money. The rumor as started by J.P. Morgan and others to kill off some of their competition. So everybody ran to their banks and withdrew all their money, thus causing the very thing they feared, to happen.
When we go to war, large industrial corporations make billions! War is good for their businesses. All of them have full time, paid lobbyist who lobby your representatives. Whom do you think your representatives, represent? You or them?
Political Fear
With the election of our first Black President, there has been the constant drumbeat of fear. I don't know how white people – those who haven't gone insane – keep their sanity. "We're becoming socialist!" Ever hear that? Next time you do, ask the person saying it to define socialism. Bet you almost anything they won't be able to. Fire departments, police departments, ambulance services and public schools are technically socialism. We seem to have done alright down through the years with these institutions.
Race Fear
Nit wits such as Bill O'Reilly predicted that if George Zimmerman were acquitted, this nation would erupt in race riots. I wonder how many frightened white people got their guns, ammo and hunkered down for that one? We hear terms like "Zombie Apocalypse!" We all know what that means. The Zombies are the inner city urban people – Blacks and other minorities – who are going to come to the suburbs and rural areas to kill white people and take what they've got. The NRA sure makes a bunch of money feeding this fear. Gun manufactures make money feeding this fear. Conservative talk radio gets listeners by feeding this fear and their advertisers make money feeding this fear. Buy gold! Buy Silver! Question, what is a gold coin worth? If you're starving, it is just about worth a single slice of bread.
Because of fear, we allow ourselves to be subjected to invasive searches and body scans whenever we fly and we allow our children to be groped. Why? The rules were rewritten by flight 93 on September 11, 2001. You no longer need to search anyone getting on a plane. If a terrorist pulled out a sub machine gun he'd get beaten to death by the passengers before he could holler "Allah Akbar!"
Because of fear we are watching our nation and the nations of the world, turn into "Police States." Police departments are armed damn near as heavily as army combat units. They have their own armored personnel carriers, helicopters with FLIR and other various weapons systems. They patrol our streets in "Jackboots" with armor and full automatic weapons. Yet, we don't seem to mind because we've deluded ourselves into *believing* that they're keeping us safe… but who will keep us safe from them?
Rule By Fear
It's all one big game. The objective is absolute control and subjugation of the population. Consider poor white people during the time of Slavery in the United States. Talk about being had! These poor fools supported the very institution that was keeping them in poverty! The mind control trigger was in convincing them that because of their skin color, they were better than the Slaves. Never mind the fact that they weren't really living any better. Some were living worse off than the Slaves. On the plantation the Slaves were fed.
Why were these white people poor? They were poor because they were out of work. Who was in a position to hire? The plantation owners of course. However, why should they hire white people whom they'd have to pay a wage, when they could make the Black Slaves do the work for free?
We had a commonality of interest that was derailed by deluding these poor white people to focus on race and skin color. If they'd been smart, they'd of been fighting to free the Slaves. Freed slaves would have meant that the plantation owners would have to hire them and pay them a wage. That money would have made it possible for them to move up the social ladder, and build a better life for them and their own children.
Nothing has changed! You can see poor white people, blinded by racism, wanting to kick all the undocumented workers out of this country under the impression that these people from south of or border are costing them jobs. Many of these people are wearing clothes that they purchased from Walmart. They're buying groceries to put on their tables, from Walmart. The irony approaches the surreal!
Fear Of Immigrants
Hispanic people come to this country, undocumented or not, work here, pay taxes here, buy goods and services here and for the most part, the money stays right here. They contribute to our economy. When you shop at Walmart – we really should call it by its true name, China-Mart – the people manufacturing the products you buy are in China. Many times working in slave conditions. They do not pay taxes here, nor do they support the American economy. They are the cause of American factories and plants closing and our jobs going to China. Big business gets richer and you get poorer. Don't focus on the *real* problem. Fear people who don't look exactly like you do. They must be the problem! Not big business. We are gullible and being ruled by a fear that has no merit, but has been fostered and fed to keep us distracted from the real problems. The reality? In the words of Franklin Delano Roosevelt, "We have nothing to fear, but fear itself!" It is time to dispose of childish fears.